Sculptra is a new type of injectable treatment made of poly-L-lactic acid, a biocompatible and biodegradable product that facilitates collagen formation. Sculptra injectables are popularly used to restore lost facial volume, but now they can also be used for natural breast augmentation. Sculptra is worth considering if you want to naturally and gradually enhance your curves, without going under the knife.
What is Sculptra?
Sculptra® Aesthetic is an injectable product that's delivered into strategically-targeted areas to enhance volume. However, Sculptra is different from most existing hyaluronic acid because it doesn't "fill" deep grooves or provide immediate results. Instead, the product catalyzes your body's natural collagen production capabilities, resulting in gradual and natural results that don't show any signs of cosmetic manipulation.
Sculptra is popularly used to treat nasolabial wrinkles and restore facial volume, but it has also proven to be an effective treatment for natural breast augmentation. Injecting Sculptra® Aesthetic into the breast tissues can naturally enhance your bust size over several months, leading to natural-looking results. The results are long-lasting, and you don't need to get artificial implants or go under the knife.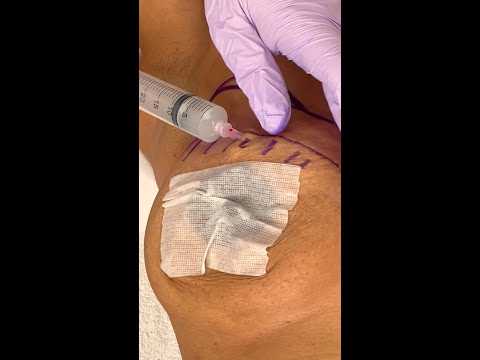 How does Sculptra natural breast augmentation work?
Collagen is a structural component that ensures your skin looks smooth, supple, voluminous, and youthful. However, as you age, your body's ability to produce collagen decreases, leading to wrinkles and loss of volume. The gradual loss of collagen is one of the primary reasons your breasts start sagging and look deflated as you age. Sculptra helps with natural breast augmentation by encouraging your body to generate collagen, restoring or adding breast volume without external implants.
Sculptra is composed of a biocompatible and biodegradable product (PLLA) that stimulates your body's collagen production abilities. PLLA is a synthetic compound derived from sugar cane, cassava root, corn starch, and other renewable plant sources and it's commonly used to make dissolvable stitches. As such, this component actively interacts with living tissues, and it gradually breaks down, leaving no residue, making it completely safe.
Sculptra isn't merely injected under the skin to add fullness — instead, it's injected into the deep dermis, where it replaces lost collagen and restores your skin's underlying structures. As you get multiple Sculptra injections over several months, you'll gradually notice enhanced breast volume due to the gradual collagen formation in your skin's deepest layers. And that's how Sculptra ensures natural breast augmentation.
Schedule

a Free Consultation
Contact Us
What are the advantages of Sculptra over traditional breast augmentation?
Sculptra provides natural breast augmentation, catalyzing your body's natural collagen production abilities.
The results appear gradually over several months, so no one needs to know you've had a cosmetic treatment. Your enhanced breasts will look and feel completely natural.
Besides enhancing your breast volume, Sculptra also treats sagging and wrinkles, making your breasts appear smooth and taut.
Made of a biocompatible and biodegradable product (poly-L-lactic acid) that gradually gets absorbed by the body after replacing the lost collagen.
There's no downtime or extended recovery period — you can return to work immediately after the treatment.
Natural breast augmentation is completely safe, with minimal side effects, such as redness, swelling, tenderness, etc. However, these side effects dissipate in a few days.
Am I a suitable candidate for Sculptra natural breast augmentation?
Sculptra is an FDA-approved injectable that's been around since 1999, and it's perfectly safe for most people over the age of 18. However, as with all foreign substances injected into the body, it has a few contraindications:
Pregnancy, nursing, or lactating.
A history of keloid formation or medical conditions that promote scarring.
Active skin conditions on injection sites, such as hives, rashes, cysts, infections, etc.
A history of severe allergies.
What to expect after natural breast augmentation?
Sculptra injections are administered within a few minutes, and you can resume most of your daily activities immediately. Based on your consultation, Dr. Kaado will schedule three or four separate Sculptra sessions over three or four months, giving your body plenty of time to absorb the poly-L-lactic acid particles. You may experience swelling, bruising, and redness after the procedure, but these side effects will recede within 2 days. There's a slight, even negligible, risk of infections. The results of the procedure typically last for up to 2 years.
Why choose Dr. Kaado for natural breast augmentation?
Dr. Kaado is one of the most capable and experienced practitioners of Sculptra injections and natural breast augmentation. He creates a carefully-calibrated treatment plan based on your specific needs to ensure there's no overcorrection or loss of volume. Dr. Kaado is an award-winning dermatologist, rated the Top Doctor on Real Self. Furthermore, unlike most practitioners, Dr. Kaado administers the Sculptra injection with cannulas instead of needles, ensuring greater safety, comfort, and efficiency. His goal is to ensure you achieve optimal and natural-looking results without complications.
Schedule a consultation with us, and discover a clinic where achieving true beauty defines how we perform every treatment.
(757) 330-3647
Mon - Sat: 10am - 7pm
1860 Laskin Road Suite 110, Virginia Beach, VA 23454
* $75 consultation fees for butt augmentation, bodytite, vaser liposuction and high definition liposuction.
If patient decides to go ahead with the treatment, that $75 will be credited towards the procedure. The $75 consultation fee is non-refundable